Five ways of faster movement in CS 1.6
Today we're going to talk about speed and this article isn't about how fast you can aim at a target or how quick you may shoot from the AWP but about a speed of our in-game movement, particularly moving forward. There are different techniques and ways to faster travel inside the game and we're covering five most important ones. From the very obvious and simple ones to more unique and highly efficient.
The speed at which you can move can and most of the time is detrimental to your success
in accomplishing tasks and reaching goals.
It's essential to make it to the plant zone in time before the enemy, it's essential to rescue hostages as quickly as possible and it is essential to safely evacuate the VIP as fast as you can. Even aside from that, there are specific modifications at which speed is the matter of life and death, Hide and Seek being the main example. That's why it's very important to know the ways you can move forward as quickly as possible, either by using a particular technique or simply picking the right tactic and avoiding mistakes that can slow you down.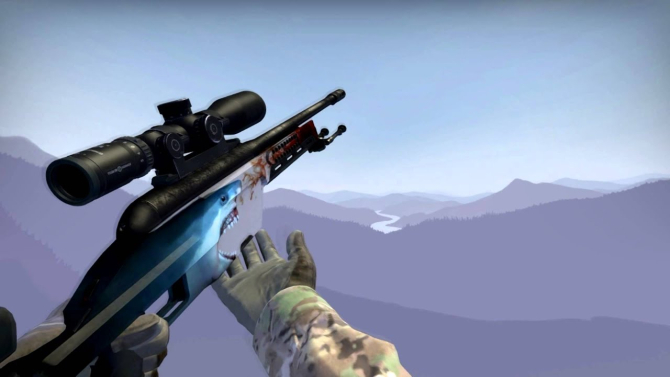 Weapon
If you've played Counter-Strike before you may have noticed that your speed is directly dependent on the gun you're carrying. For example with an AWP in your hands your movement will be quite slow while you can sprint much faster holding a knife or a pistol. And although weapons like knifes, pistols, some submachine guns can provide you with quite a fast pace the most efficient one on the list is Scout.
This light-weight rifle actually increases your speed by the whole 10 units
.
To properly understand that, a knife gives you a 10 units boost over an automatic rifle like Ak-47 which is rather visible difference. And now you can clearly imaging what a boost like that does you can understand how smart it is to use Scout for a speed boost. In fact, it provides that much of an advantage that some modifications like Kreedz and BunnyHop normally disable ranking on a map for a player using Scout. But on any other map no one would mind it, so if your goal is to reach a certain checkpoint on a location faster than any other player get yourself a Scout.
«Fast ladder climbing is an essential skill for modifications like Hide&Seek»
Ladders
We all use ladders once in a while on a whole variety of different maps. But not everyone knows that
if you hold a strafe instead of just forward or backward while moving up or down a ladder you increase your movement speed two fold
. In order for that to work first you need to position yourself on a ladder with one of your sides facing it. After that, if your left side is facing the ladder, press left strafe and forward at the same time. Alternatively if it's your right side that's facing it, use the right strafe instead.
While this technique is useful at any map that have ladders on it, it's detrimental to your success on the Hide&Seek mod because they are the main part of the chase whether you're trying to save your life or catch an enemy you need to learn this easy to practice method of movement. Of course on some maps you also need to know how to use a ladder silently so that you don't give away your position. For that you will need to be crouched, only then you won't make any sound while moving up or down the ladder.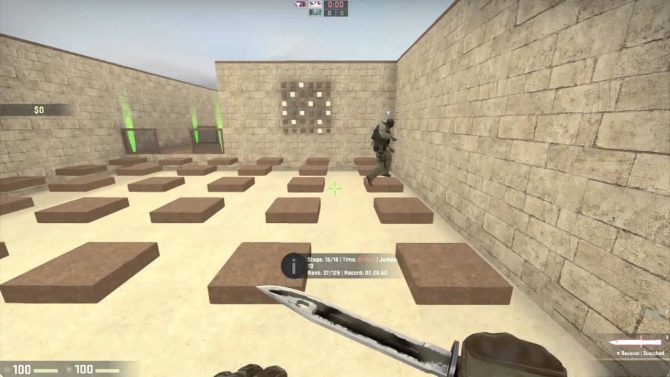 Bunny Hop
That technique is quite famous and rather popular due to the BunnyHop/Kreedz modification and BH_ maps where the main goal is to jump from a block to another block in a bunny hop fashion. However, this way of movement if done correctly increases your speed perpetually, meaning the longer you bunny hop, the higher your speed gets. While it's not an easy technique to acquire,
it is a very unique and amazingly efficient way to fast travel around the map
. The best way to learn it is of course via BH_ maps.
For the jumping to work you're going to need to bind the jump command to your mouse wheel and not press forward after the first jump. The only things to use are strafes, mouse movement and mouse wheel to hop. Always change the direction of your next jump after each of them and follow your mouse the same direction as your strafes. If you manage to master this way of transportation you'll be able to reach your distance goals much faster than any other player. In order to speed it up even more don't forget to get yourself a Scout.
«Server admins are able to increase the pace of travel to a ridicules degree»
Admin abilities
We couldn't make an article about speed of movement and not include the privileges server administrators or VIPs may have. It's fairly easy to make or install an already created plugin that allows to change the speed of player's movement. Through these plugins it's possible to increase the pace of travel to a ridicules degree. Of course it's fairly useless to do because other players will just lose interest gaming with this sort of unbalanced players especially with a classic gameplay but
it's being used to a certain degree on mods like Deathrun, Zombie and some other non-standard gameplay variations
.
Let's also not forget about such abilities as hook (also used on mods like JailBreak and some of the upper mentioned ones) which allows a player to fly around the map like a Spiderman. Of course all of these add-ons take out the fun out of gameplay for the rest of the players for a certain degree but if they are available for purchase in the in-game ability-shop or such then it's a level playing field. Obviously there isn't much to learn here apart from maybe practicing with a hook which is fairly easy. First you need to bind to a key and then use that key to attach the hook to a certain wall or ceiling in order to pull yourself towards it.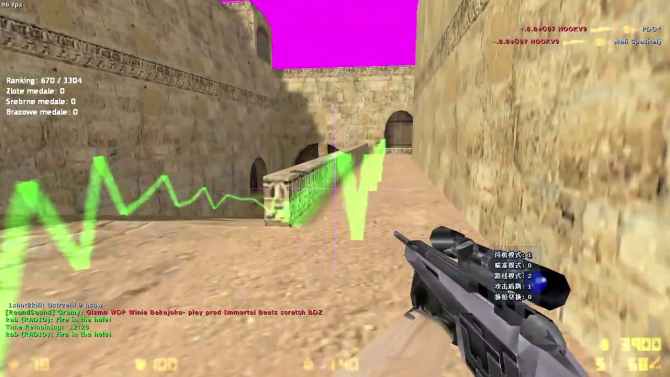 Cheats/Hacks
Last but not least we need to cover the hacking aspect. If you read our previous article "
how to detect a cheater in CS 1.6
" then you already know about
SpeedHack — a form of cheating that increase your movement speed to a ridicules degree making you move through a map faster than a rocket ship
. Obviously this method is highly illegal and you'll get banned faster than you're moving via any modern anticheating plugin or a present admin.
Still it's a method worth mentioning since it's still used by a variety of cheaters. You won't need to be using it because you probably
download CS 1.6
for your enjoyment and entertainment which is a competitive gaming but it doesn't hurt knowing about it so you can at least identify it and alert server's administration about a hacker if such a player start spoiling everybody's good time. And there you have it, five ways of faster travel in Counter-Strike 1.6. We suggest you adapt and use these techniques for your own benefit and wish you good luck!